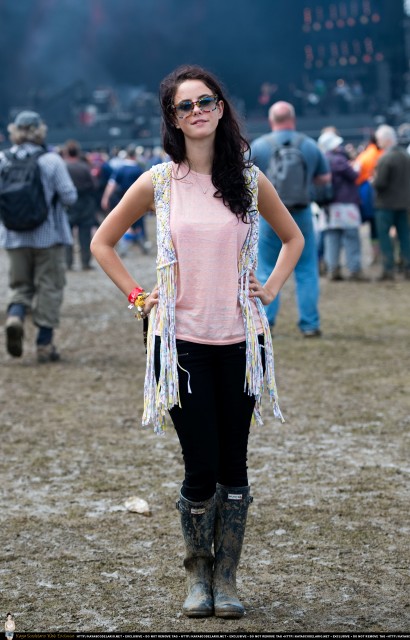 На фестивале  Isle of Wight журналисты Daily Mail поймали Каю и задали ей несколько вопросов.
Сейчас поленюсь переводить, может быть потом, читайте так (:
What's your favourite item in your wardrobe right now?
A scarf I bought in River Island, though I think I may have just ruined it by dropping it in the mud! It has world flags all over it and reminds me of travelling.

The last thing you splashed out on?
A three-week holiday to Brazil with my boyfriend. I didn't want to come home.

Your fashion failsafe?
My black Kurt Geiger platforms. They can be dressed up or down and make my legs look quite good!

What are you saving up for?
Mac make-up. I always seem to be saving up for it and wanting more.

What will you be packing for your holidays?
This macram? pastel waistcoat from River Island (I went on a bit of a spree there!), some multicoloured sunglasses and lots of skinny jeans – all brands, all colours, all patterns.
Источник: www.dailymail.co.uk